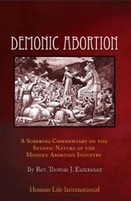 Demonic Abortion: A Sobering Commentary on the Satanic Nature of the Modern Abortion Industry 
Rev. Thomas J. Euteneuer
Introduction mp3 (right click mp3 link to download file)
"And they overcame him [the devil], by the blood of the lamb and the word of their testimony…."  Revelation 12:11
Questions 1 - 6 mp3 
What is the "culture of death"? (0:03)

What is the distinguishing feature of the worldview of pro-abortion activists and where did it come from? (2:50)

What is the 'unholy trinity'? (7:11)

In what sense is the promotion of abortion a conspiracy? (11:29)

In what sense is the abortion business demonic? (14:42)

What does demonic ideology look like? (18:56)
"Discipline yourselves, keep alert. Like a roaring lion your adversary the devil prowls around, looking for someone to devour." 1 Peter 5:8
Questions 7 − 14 mp3
How is abortion related to feminism? (0:00)

How does abortion liberalization around the world negatively effect the very women it purports to help? (1:42)

Who calls abortion a 'sacrament'? (3:30)

Does the abortion industry use 'God' and 'religion' to promote its killing agenda? (4:21)

What is the magnitude of abortion's evil? (7:39)

Why is the culture of death considered universal in its scope? (10:08) - Read the Jaffe Memo

Is population control considered by the church to be evil? If so, why? (14:09)

How is contraception spiritually evil? (18:06)
"… Satan disguises himself as an angel of light." 2 Corinthians 11:14
Questions 15 − 22 mp3
Are abortionists possessed? What about the escorts or the people who work there? (0:00)

If they are not exactly possessed, are they evil? (3:07)

How has this evil spilled over into American society? (6:20)

Can a whole society be possessed? (10:31)

Is American society possessed or becoming possessed? (14:59)

What is spiritual warfare? (20:07)

Is spiritual warfare in the pro-life cause violent? (20:40)

What forms of spiritual warfare are appropriate in pro-life work? (21:17)
"… the devil has been sinning from the beginning. The Son of God was revealed for this purpose, to destroy the works of the devil." 1 John 3:8
Questions 23 − 29 mp3
What forms of spiritual warfare can the lay faithful carry out at abortion mills, or anywhere else? (0:00)

How can pro-lifers on the front lines protect themselves spiritually? (2:40)

What is the spiritual significance of pregnancy care centers? (4:56)

What is the most successful model of pro-life spiritual warfare? (6:23)

What are the two most effective forces in the American pro-life movement today? (7:52)

What role does the church have to play in fighting the culture of death? (10:44)

How can I get my priest to speak more from the pulpit about abortion and contraception? (13:20)
"[The devil] … was a murderer from the beginning and does not stand in the truth, because there is no truth in him. When he lies, he speaks according to his own nature, for he is a liar and the father of lies." John 8:44
Questions 30 − 41 mp3
Why do we need priestly and episcopal leadership in the pro-life movement? (0:00)

Will bringing the Eucharist to an abortion clinic shut it down? (1:55)

Can a priest do an exorcism over a functioning abortion mill? (4:09)

What should be done to cleanse a former killing center? (5:43)

Should pro-lifers buy out abortion centers, or pay off the abortionists to get them out of business? (6:41)

Do women who have abortions get possessed? (8:30)

Do abortive women sometimes experience abortion as demonic? (10:37)

Why is it important for women who have had abortions to go through healing programs? (11:38)

What is our obligation as Christians to unborn babies in danger of abortion? (13:47)

What happens to a baby who is killed by such an evil as abortion? (15:23)

Can a baby be baptized after he is aborted? 

(19:37)

Should we "baptize" unborn babies who are being taken in to be aborted? 

(20:49)
"Behind the disobedient choice of our first parents, Adam and Eve, lurks a seductive voice, opposed to God, which makes them fall into death out of envy. Scripture and the Church's Tradition see in this being a fallen angel, called "Satan" or the "devil"."  Paragraph 391, Catechism of the Catholic Church
Appendixes
Appendix A - Abortion as a "sacrament", in their own words.

mp3  

Abortion is Worth Going to Hell For (0:50)

If Women Were In Charge (1:21)

The "Holy Abortionist" (2:19)

A Sermon to Abortion Providers (4:59)

God Rejoices in a Woman's Choice to Abort (5:37)

A Major Blessing (7:10)

Book: Abortion is Blessing - To A Radical Feminist (7:50)

We Are Goddesses - Life and Death is Our Decision (9:20)

Witch-Speak From a "Catholic Feminist" (10:22)

Abortion is a Sacrifice to Artemis (12:17)

Abortion Grieving Rituals (14:23)

The "Sacred Ground" of an Abortuary (15:57)

The Clergyman From Hell (17:44)

Satan's Benediction: "Let the Spirit of Dr. Tiller Live On" (18:21)

Baptize Your Baby-After Killing Her (19:47)

Transcript of the audio recording of Dr. Tiller in his advertisement of services (21:33)

Dr. Tiller's Chaplain, Rev. George Gardner, had his own section on the website too (23:21)

The following"prayer service" to justify the killing of a baby were composed by Diann L. Neu. The first two are currently published by "Catholic" for a Free Choice (24:23)

Liturgy for Seeking Wisdom (24:36),

Liturgy of Affirmation for Making a Difficult Decision (26:43),

A Liturgy of Challenge (30:09).
Appendix B - Scripture passages concerning blood, and the precious Blood of Jesus

(not recorded)

Genesis 4:8-11; Able's blood cries out

Genesis 9:3-6; Blood is sacred - the covenant with Noah

Exodus 12:5-7, 11-13; The blood of the Paschal Lamb on the doorposts and lintels

Exodus 24:5-8; Moses sprinkles the people with good

1 Kings 8:62-63; Solomon offers blood sacrifice in the Temple

Leviticus 17:11; The sacredness of blood

2 Samuel 24:17, 25; David offers blood sacrifice to stop a pestilence

John 19:33-34, 36-37; The Sacred Heart of Jesus

Ephesians 2:13-14; Christ's Blood breaks down the wall of separation

Hebrews 9:11-14; Christ's Blood cleanses consciences

Hebrews 10:19-22; Christ's Blood makes us confident to approach God

Hebrews 12:22-24; The Blood of Christ is more eloquent than the blood Abel

1 Peter 1:1-2; Purified by Christ's Blood

1 Peter 1:18-20; Jesus the spotless lamb

1 John 1:7; The cleansing power of Christ's Blood

1 John 5:5-8; Three witnesses: the Spirit, the water and the blood

Revelation 1:5-6; Freed of our sins by Christ's Blood
Appendix C - Other articles on demonic abortion. mp3

Abortion: The Devil's Masterpiece (0:00)

The "Sacrament" of Abortion (3:37)